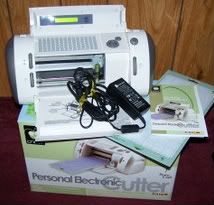 I have listed my baby bug Cricut Electronic Cutting Machine on ebay. I did receive the Cricut Expressions and just well cant use both of them lol. I just love this little machine. It's like new, in excellent condition. It is perfect for crops or taking to a friends house. You will not receive a cartridge due to I am using with my Expressions machine. You will receive tho the machine, the blade housing and blade, cutting mat, user manuel, power cords, and the original box. I usually purchase extra blades, cutting mats, cartridges at my local Walmart and Hobby Lobby retail stores.
If you are interested you can view
My Cricut Ebay Listing Here
Thanks for stopping by and if you have any questions please just email me.